AI Driven Talent Acquisition Solutions
Our revolutionary SMART INTUITION TECHNOLOGY™ delivers the best outcome for job seekers, who only get sent relevant job offers, and for employers, who only get relevant candidates in the right quantity, at the right time and at the right price.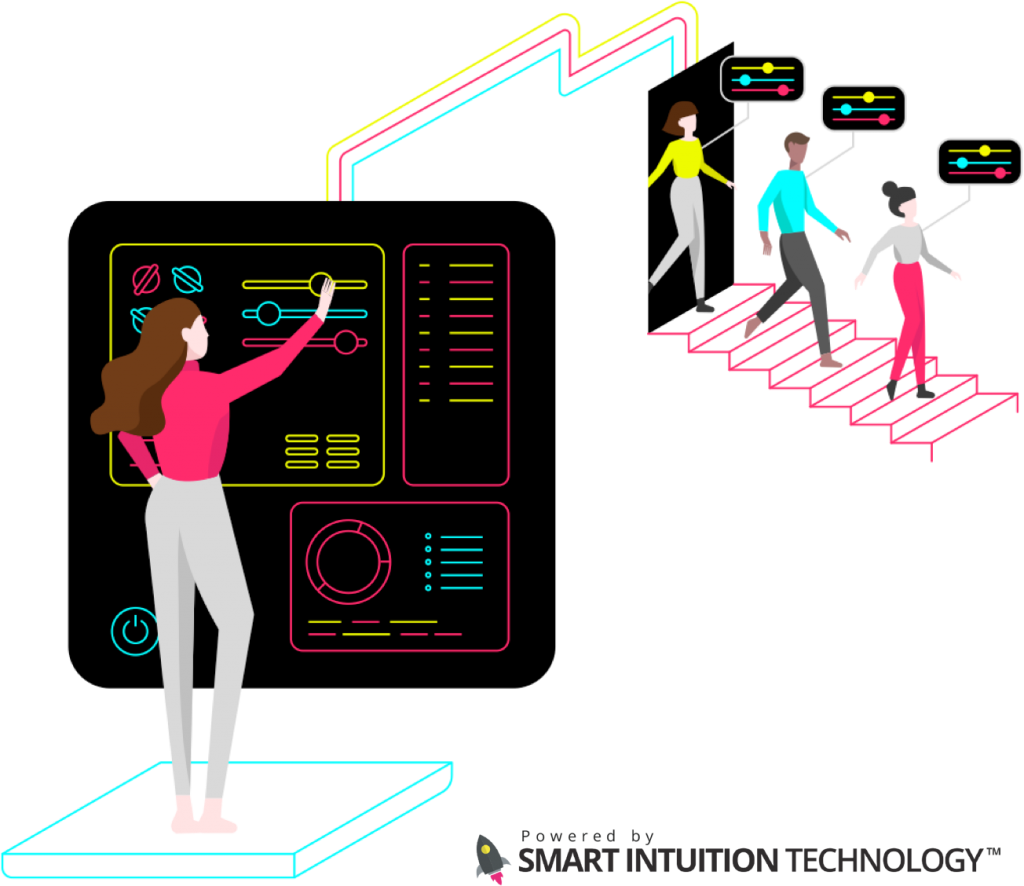 SMART INTUITION TECHNOLOGY™
Our innovative SMART INTUITION TECHNOLOGY™ continuously scans and matches socio-demographical and behavioural data of our growing community of 100 + MNL job seekers, building hyper-targeting capabilities and turning them into programmatic campaigns, to deliver all (and only) the candidates who perfectly fit the job positions you're offering.
Users behaviour and inferences
Recruiting status - Actively looking for a job
Profiled by taxonomy in one or more categories
Actively searching for specific jobs
Users socio-demographical data
Age range
Education level
Income level
Based on taxonomy and big data and enabled by artificial intelligence and machine learning, Jobrapido's SMART INTUITION TECHNOLOGY™ learns about the interests of job seekers and sends them the most complete range of offers relevant only to them.
This new technology is applied to all stages of the job search experience and helps to profile the community more effectively, enhance the user's search experience and make the match between job offer and demand easier and faster:
more results per job search vs Keyword Matching
more qualified candidates
higher rate of application
more effectiveness in the recruiting process
Taxonomy
A tree-like classification for occupations that is based on skills, tasks, education, and level of experience
AI & Big Data
Socio-demographical and behavioural data used for matching and profiling
Machine-learning
The more it runs, the better its accuracy
A 4-step user-centric profiled experience
Thanks to SMART INTUITION TECHNOLOGY™ we can offer a fully integrated recruitment campaign based on user-centric profiling to deliver companies the right candidates they need, at the right time and in the right quantity. We don't sell you clicks, we sell you qualified candidates on demand.
1
Job seeking journey starts
Lily, an office manager, starts looking for a job. She lands on Jobrapido.com.
Acquisition & profiling
Jobrapido only looks for active job seekers, and identifies Lily for profiling.
2
Finding on target offers and beyond
Lily starts receiving a number of opportunities exactly matching her needs and experience.
Taxonomy matching & subscription
Jobrapido has identified and matched the right opportunities using its AI technology.
3
Job offers find the jobseekers
Lily continues to receive tailored alerts with new, fresh, relevant vacancies.
Alerting & programmatic campaigning
SMART INTUITION TECHNOLOGY™ automatically updates and refreshes offers that match profiles.
4
The new job is found
Lily applies, is the right fit, and gets the job.
Eureka & re-activation
Once job seeker and recruiter are matched, SMART INTUITION TECHNOLOGY™ adapts communication with Lily.
How to match the right job with the right person? Taxonomy is the key.
When I discovered that taxonomy could be used as a technology to facilitate the match between labour supply and demand, I realised immediately the limits of Full Text Search as a tool for candidates and companies in the digital recruiting experience.
Watch the video to discover more.
Technology and performance-based campaigns turn clicks into relevant candidates. Contact our experts to find out more.